Shopping
Check out my online store. There are hundreds of items for home, health, beauty and gifts. There is something for every member of the family.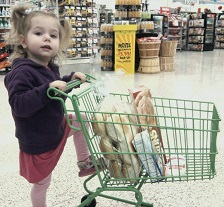 Here are some of the highlights and must haves that my family loves. Click on the category below to take you to the website for more information and a complete list of items to purchase.
Featured items that are a must have:
Kids don't always eat the way they should. As parents we try to offer new foods and hide veggies in drinks and other foods to help them get the vitamins that they need. Vitamins are a great way to help take up the slack of the missing nutrients. Check out the kid's brainiums for essential omega-3 fatty acids that support optimal memory, learning, and concentration to help them excel in school.
My husband calls me the laundry queen. I love to do laundry and it is the only house work I don't mind. I am very picky because my daughter has sensitive skin and my family is always getting some kind of stain on their clothes. So I need items that are tough on stains and sensitive on skin. These are best laundry products I have ever found. Check out the great all fabric bleach.
My family loves the shampoo. My daughters have opposite hair types with one really curly and full and the other straight. The shampoo works great on both of them. Whenever my teenage daughter has to shower somewhere besides our house she always take shampoo with her because she said other shampoos that she has tried at friend's house always make her hair look greasy and ours doesn't. They both have really long hair and the conditioner is great with keeping away the tangles.
It is important to take care of your skin starting from a young age. There are skin care products for the whole family even dad. Both the skin care and cosmetic brands are among the world's top largest selling premium brands.

Are you looking for a healthier alternative to those energy drinks that you find at the grocery store or gas station? XS energy drinks have all of the energy and none of the sugar. They provide a proprietary formula of herbs, vitamins, key amino acids, and folic acids. You have 11 delicious flavors to choose from. They contain no sugar, 0-2 g carbs, only 8-16 calories per can and two are caffeine free. They taste great!
This is the perfect gift for every person and every occasion. You choose the gift card price and occasion and they get to choose the gift. They are easy to get, enjoyable to give, and quick to redeem.