Tennis
Sioux Falls Kids 411 Directory, offers information on kids tennis in Sioux Falls, SD, where to sign up for tennis lesson, junior tennis teams, tennis camps, private tennis lessons, group tennis lessons, where to buy tennis racquets, and much more.

You can click on the organization in the list at the top of the page to take you right to their website or look below for a short description and contact information.

Sioux Falls Tennis Association
The Sioux Falls Tennis Association (SFTA), a Community Tennis Association under the auspices of the United States Tennis Association (USTA), exists to provide resources, programs, and leadership to promote and grow the game of tennis to people of all ages, genders and origins in Sioux Falls and the surrounding communities. Tennis lessons are run in partnership with the Sioux Falls Parks and Recreation Department and are taught at various times and parks around the city. The SFTA provides summer lessons for ages 4 - adult. The goals of the SFTA Lesson Program are to either introduce participants to the sport of tennis or instruct players with previous experience, raising their skills to a higher level. Junior lessons are run in two five week sessions beginning in June and running through August. Juniors may participate in either or both sessions. At the end of each session players have the opportunity to participate in a one day novice tennis tournament (Weber Tournament). Each tournament draws more than 100 participants. 10 and under tennis is a new format to help kids ten and under learn and play the game. Each level uses equipment and plays on court sizes appropriate to their size and age. Children start playing tennis almost immediately and experience greater success. New QuickStart courts are available for public use at Spellerberg Park. Junior Team Tennis is the "Little League" for tennis. The team atmosphere provides kids the opportunity to learn and compete on a team and be with their friends. Matches are team-based and are fun because kids have the support of teammates and coaches. Team Tennis also serves to motivate and encourage junior players at various abilities to develop to the highest competitive level possible. SFTA programs run June through August.



Star Performance Complex
www.starperformancecomplex.com
605-362-7827
2517 S. Shirley Ave
emily@starperformancecomplex.com
Star Performance instructor Kevin has over 25 years of playing experience and over 10 years of teaching experience. He is a certified with the Professional Tennis Registry (PTR) with a 'Professional' rating. He played Division I tennis at Creighton University where earned a business degree in Marketing. Kevin basis his teaching philosophy and principles from the USTA and Quick start Tennis. Kevin will be providing equipment for the participants. If you would like to bring your own equipment please consult Kevin to make sure appropriate equipment is being purchased.



Tennis Pro Now
Tennis Pro Now provide tennis lessons for all ages and all levels. We are the only nationwide provider of tennis lessons through our local networks and sponsored tennis players. Our school provides 1-on-1 private tennis lessons as well as group tennis camps. Tennis lessons last an hour and we will teach you proper balance, how to grip a racket, cover the court, serve, and much more. At advanced levels, we can teach you into competitions. Learn All You Need to Know About Tennis in Just 2 Weeks. Yes! You can Learn Tennis this quickly in our all levels tennis training program in Sioux Falls SD. Our team's Learn Tennis Quickly program will very much help you accomplish that! Our lessons teach beginners of all ages proper hand placement for almost all beginner strokes like forehand and backhand strokes. At the classes you will learn how to most efficiently play a game of doubles as well as a lot of really good tennis strategies. Our company uses only pre-screened certified instructors and on average they have over four years in our tennis program and have the top instructors in Sioux Falls. Lessons at any public or private tennis court within 25 miles of Sioux Falls. We Come to You! We teach ages 4 through 104! All abilities! Copyrighted Learning System: Do you want to learn 20 new techniques in the next 2 weeks? Tennis Pro Now Instructors teach the copyrighted Tennis Explained learning system. This is the fastest step-by-step system out there.


Woodlake Athletic Club
Private lesson, group lessons, and competitive teams. Come join in the fun of 10-under Junior Team Tennis! Smaller courts, balls and rackets and many match day events will give young players an awesome experience playing their first competitive tennis matches! Star level 1 to 6 is designed to advance players through our levels. Instruction, drills and games will help each and every player to develop the skills to progress through the levels. Junior competitive levels 7-9 is a highly competitive program targeted for the high school and USTA tournament player. These classes include advanced skills and drills along with strategy for singles and doubles.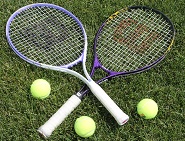 For a list of youth tennis camps
Sioux Falls Public Tennis Courts
McKennan Park - 26th and Phillips
Kuehn Park - 41st and Valley View
Laurel Oaks Park - 49th and Southeastern
Tomar Park - Minnesota and I229
Frank Olsen Park - 18th and Bahnson
Lewis Park - 57th and Cliff
Menlo Park - 18th and Grange
Riverdale Park - 18th and I229
Spellerberg Park - 26th and Western has short courts designed for ages 10 and under
Terrace Park - Madison and West
Lincoln High School - 33rd and Cliff
Washington High School - 6th and Sycamore
Augustana College - 33rd and Grange
Stores to purchase tennis equipment

Dicks Sporting Goods
1080 W Empire Mall
605-362-6550

Play It Again Sports
1208 W 41st St
605-339-2444

Scheels
2101 W 41st St #25A
605-334-7767