Skating
Sioux Falls Kids 411 Directory, offers information on skating lessons, skating clubs and teams, places to buy skates and equipment, and skating rinks and ramps for kids in Sioux Falls, SD.

You can click on the organization in the list at the top of the page to take you right to their website or look below for a short description and contact information.




Baby Dollz
Girls ages 7-17
Jr Roller Derby
Baby Dollz season will begin in January and run through May. Quad skates, helmet, wrist guards, elbow pads, knee pads and mouth guards required. Practice at the multi-cultural center.

Sioux Falls Figure Skating Club
www.sffsc.com
(605) 271-8897
karenthornbrugh@earthlink.net
"Figure Skating is a mixture of art, sport, and fun!" Ever dreamed of learning to Ice Skate? The Sioux Falls Figure Skating Club can teach you how to skate forwards, backwards, and spin around! There is no age limit or restrictions, and best of all Sioux Falls Figure Skating Club is dedicated to having fun!! Mission Statement: To provide fun, affordable skating instruction for all ages of recreational and competitive skaters. Come visit our facility today and we're sure you'll love it. Lessons are held at the Sioux Falls Ice and Rec Center 1600 W. 51st St. Sioux Falls, SD. Classes: Learn to Skate, Basic Skills Hockey, Freestyle 1-10, Specialty Classes, Private Lessons. Learn to Skate: Our learn to skate classes are taught according to level by our well trained Sioux Falls figure skating coaches. Tot 1-4: A child who can walk well can be taught to ice skate. Very young children require special classes with instruction given in a fun – rather than a more formal – atmosphere. These tests are specifically designed for beginning skaters age 6 and under. Basic Skills Hockey: Just like in figure skating, hockey players still have to start with the basics. Basic Skills Hockey teaches a beginning skater literally how to skate, so that they are able to move on to stick handling and playing in games. Freestyle 1-10: Now it's time to fly high! After completion of the introductory Learn-to-Skate levels, recreational skaters may progress to more advanced areas of skating. Beginning with half-rotation jumps and basic spins all the way up to triple jumps and flying spins, your skating skill level will improve at every step. Specialty Classes: Edges, Turns and Twizzles, Basic Spins, Advanced Spins, Basic Jumps, Axels, Axels, & more Axels, Double Jumps, Ice Dance, Low-Power, High-Power, Adult, Show group classes, and Duet/Trio Show. Private Lessons: Unlike ballet, dance, or gymnastics, where learning occurs in a group lesson format most of the time, figure skating is mastered through private lessons.

Ice skating rinks
Campus Park, 26th Street and Summit Avenue
Memorial Park, 26th Street and Sertoma Avenue
Frank Olson Park, 16th Street and Grandview Avenue
Sherman Park, 15th Street and Kiwanis Avenue
McKennan Park, 21st Street and Third Avenue
Tuthill Park, South Cliff Avenue, southeast of I-229
Hockey Rinks are at Memorial Park and Sherman Park
Indoor ice rink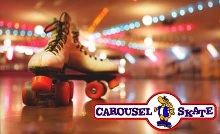 Roller Skating Rink
Carousel Skate
www.carousel-skate.com
(605) 332-7915
2901 W. 3rd Street
Skateboard Parks
Click on park below for more information on each park.
Stores to purchase skates

Dicks Sporting Goods
1080 W Empire Mall
605-362-6550

Play It Again Sports
1208 W 41st St
605-339-2444

Scheels
2101 W 41st St #25A
605-334-7767