Gymnastics
Sioux Falls Kids 411 Directory offers information on gymnastics for kids in Sioux Falls, SD, where to sign up for classes and lessons, gymnastic camps, competitive gymnastics, where to buy leotards and more.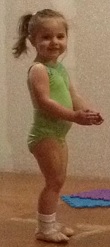 Scroll down to see a short description of each business or click on the company name in the top list to take you to their website for full details.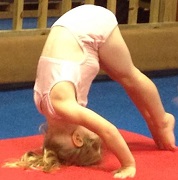 All American Gymnastics
www.allamericangymnastics.com
(605) 334-4311
3009 S. Phillips Ave
aagaoffice@allamericangymnastics.com
6 different programs: Preschool, Recreational, Developmental, competitive, recreational, and private lessons. Why settle for less...when AAGA is the best!! AAGA is one of the top facilities in the nation. We have produced some of the best tumblers for local cheerleading clubs and the most local, regional, national, & collegiate champions than any other gym in the state. We are one of the only gyms in the state to coach gymnasts at a national level & have a national champion at the Junior Olympics. Our gymnasts have trained & competed with former Olympic team members! With some of the highest qualified coaches in the state, we make gymnastics fun for the very young through high school age. We have a safe & fun environment. USA Gymnastics Member Club. For over 25 years AAGA has trained the best kids in Sioux Falls to become the best athletes in town!

Power and Grace
Are you looking for something to enhance your child's development? Look no further. At Power & Grace, we specialize in the developing child. While here, you child will improve in strength, coordination and balance. We all know that athletes are made, not born, and it has been shown that gymnastics helps to develop athletes by developing the fundamentals that are important in all athletics - strength, coordination, and balance. Power & Grace Gymnastics provides classes for a full spectrum of gymnastics. We offer a Preschool Program for the youngest gym members, classes for the school age gymnast, the WildCats competitive Cheer team, and the Power & Grace Diamonds, a complete competitive program for girls ages 6 through 18. Power and Grace has a wide variety of classes to fit the needs of all ages! We have Preschool classes for the very young . . . ages 18 months through 5 years old! We have Recreational classes for the school age student . . . ages 6 through 12 years; including cheer/gymnastics combo classes and boys classes. And we have specialty classes . . . for those who just want to tumble . . .Tumbling Classes – ages 6 – 18, and for the middle/high school athlete . . . High School classes – ages 13 – 18.

Star Performance Complex
www.starperformancecomplex.com
(605) 362-7827
2517 S. Shirley Ave
emily@starperformancecomplex.com
We are setting the standards high and excellence is our goal. Our environment is family friendly and our coaching staff is experienced. We are here to help your child build confidence, teach team work, and reach their goals. Several programs are offered from recreation to team: Preschool Gymnastics, Combination Classes for Astronomers and Beginner Recreational students, Developmental Team, Beginner-Advanced, Jr/Senior High, Trampoline/Tumble and Team Program. Where every star has a place to shine!

Wings Gymnastics Academy
http://www.wingsgym.com/
605-271-8242
3612 S Southeastern Ave
info@wingsgym.com
Wings Gymnastics Academy in Sioux Falls offers a fun, safe, non-competitive environment where your child can soar. We are passionate about the benefits of gymnastics for kids. Our gymnasts will develop strength, flexibility and coordination as well as spatial and perceptual awareness. They will also gain confidence as they develop important social, learning, and listening skills. We offer a variety of pre-school and recreational classes. You are welcome to do a free trial class or get your child enrolled today. Most importantly, gymnastics is very fun! And that is our goal. Children love to bounce, flip, jump and twirl! At Wings Gymnastics Academy we put all that crazy energy to work for your child. Our program allows children at any developmental level to learn and thrive in a non-competitive environment!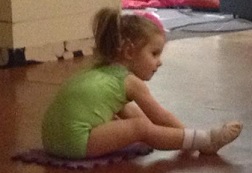 For a list of gymnastics camps for kids in Sioux Falls

Places that sell leotards and gymnastic gear
All American Gymnastics
(605) 334-4311
3009 S. Phillips Ave
Dance Line
Southway Shopping Ctr
2115 S Minnesota Ave # A
(605) 335-8242
Power and Grace
(605) 361-3419
1908 Jennifer Place

Star Performance Complex
www.starperformancecomplex.com
(605) 362-7827
2517 S. Shirley Ave