Golf
Sioux Falls Junior Golf, Sioux Falls Kids 411 Directory, offers information on golf for kids in Sioux Falls, SD, where to sign up for golf lessons, where to buy golf clubs, golf balls and other golf equipment, golf camps, private golf lessons, and golf courses in Sioux Falls.

Dakota Golf
www.dakotagolf.com
(605) 367-4601
2604 West Russell St.
thefirstteesouthdakota@yahoo.com
The First Tee of South Dakota is a non-profit foundation devoted to promoting junior golf in Sioux Falls and South Dakota. The First Tee is an initiative of the World Golf Foundation whose mission is to impact the lives of young people by providing learning facilities and education programs that promote character development and life-enhancing values through the game of golf. No young person will be turned away from First Tee of Sioux Falls programs due to an inability to pay. Participants will be afforded the opportunity to achieve levels of certification through The First Tee – PLAYer, Par, Birdie, Eagle and Ace. The First Tee provides tremendous opportunity for young people to achieve success both in golf and in life, so we encourage all junior golfers to participate in the certification process. At each certification level, participants are introduced to new golf skills and life skills. Life skills such as: Meet & Greet, Character Development, Conflict Resolution, Dreams, Goals, Building a Go-to team, and Appreciating Diversity. The Little Duffers Program is for children ages 5 to 7. The Little Duffers Program will provide the juniors a fun and safe environment in which to learn the basics of golf. PLAYer level helps establish the foundation for young people to become life-long PLAYers of the game. At the Par level, players are introduced to more advanced golf skills while learning skills that will help them on and off the golf course. BIRDIE introduces participants to goal –setting, one of the most important Life Skills. EAGLE introduces participants to the concept of overall health and wellness. All equipment is provided, but you may bring your own golf clubs.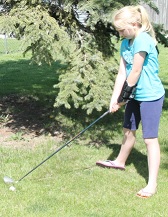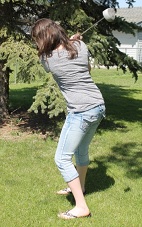 For a list of youth golf camps
Stores to purchase golf equipment

Austad's Golf
2801 E 10th St
605-331-4653
and
1501 W 41st St
605-275-2582

Dicks Sporting Goods
1080 W Empire Mall
605-362-6550

Golf Etc. Sioux Falls
3502A West 41st Street
605-361-8333

Golf USA of Sioux Falls
3211 S Carolyn Ave
605-332-4112

Play It Again Sports
1208 W 41st St
605-339-2444

Scheels
2101 W 41st St #25A
605-334-7767

Ultimate Golf & Academy
2314 S Center Ave
605-988-9696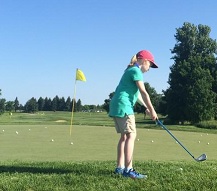 Sioux Falls Golf Courses
Bakker Crossing, 47172 S Clubhouse Rd, 605-368-9700
Elmwood Golf Course, 2604 Russell St, 605-367-7092
Kuehn Golf Course, 2901 South Kuehn Park Rd, 605-362-2811
Minnehaha Country Club, 3101 W 22nd St, 605-336-1085
Prairie Green Golf Course, 600 E 69th St, 605-367-6076
Westward Ho Country Club, 3400 W 22nd St, 605-336-3737
Willow Run Golf Course, 8000 S Dakota 42, 605-335-5900