Dance
Sioux Falls Kids 411 Directory, offers information on kids dance in Sioux Falls, SD, where to sign up for dance classes, such as hip hop, jazz, tap, classical, ballet, ballroom, pointe, lyrical, musical theatre, cheer dance, and competitive dance.

You can click on the organization in the list at the top of the page to take you right to their website or look below for a short description and contact information.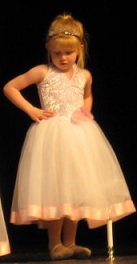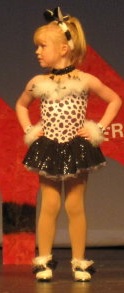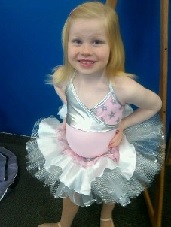 Allison's Dance Academy
www.allisonsdanceacademy.org
(605)582-5678
1304 S. Sioux Blvd. Brandon, SD 57005
Allisonsdanceacademy@yahoo.com
Ages 3 to adult. We offer dance classes for boys and girls, ages three through adult with a variety of class options: Ballet, Pointe, Lyrical, Liturgical, Tap, Jazz, Hip Hop, Cheer Dance, Pre-Dance Classes, Adult Classes, Dance Fitness, Competitive Dance, and ZUMBA Fitness. Allison's Dance Academy is passionate about providing the highest quality dance training, in a nurturing environment. We recognize each dancer as an individual and focus on improving their natural abilities and talents in a fun, encouraging and supportive atmosphere while maintaining structure. Our fabulous new facility has a professional spring board floor. Allison's Dance Academy offers performance opportunities in parades, competitions, sporting events, and other local events in addition to an end of the year recital.

Balleraena Dance Studio
All Ages. Classes include: Ballet, Contemporary, Funk, Hip Hop, Jazz, Lyrical, Musical Theatre, Pointe, Tap, Adults, Young Children, (Youth) Combo, Fitness, Private, lessons, Irish Dance, and Ballroom. Balleraena Dance Studio strives to provide high quality dance training to dancers of all ages in the Sioux Falls area. Dancers can enjoy dance on a continuum of levels from recreational to advanced. Through a variety of dance forms, dancers exercise their minds and bodies via the art of dance. Balleraena Dance Studio aims to enrich dancers with the lifelong love of dance. This facility has two spacious studios, both have sprung flooring systems and one has a Harlequin Marley covering. Balleraena now offers nearly 50 classes year round, plus solo and individual work. Balleraena Dance Studio added a dance company for advanced dancers ages 13-19 who audition to join. In addition to the annual recital, dancers have the opportunity to participate in a Christmas show, and dance in many venues around the city.

BritZa Studios
www.britzadance.com
(605)371-8888
3400 S. Bedford
BritZaDance@sio.midco.net
Ages 3 to adult. BritZa offers a wide range of dance instruction including Ballet, Pointe, Tap, Jazz, Hip Hop, Lyrical and Musical Theatre. BritZa Studios believes that dance should be an art form that is enjoyed and celebrated by the family and chooses age appropriate movement, music and apparel for class and performances. This includes our annual recital, which the whole family will enjoy. Britza has always put the safety of dancers and staff first and has installed professional quality dance floors in all of our studios to protect dancers from injury. BritZa offers nine months of instruction during the school year that culminates with an annual performance at the Washington Pavilion. BritZa also offers three months of intensive classes over the summer including a dance camp with guest artists.

Champion Legacy Cheer and Dance All-Stars
http://championallstars.net
(605)271-2232
6101 S. Charger Ave.
championwebmaster@hotmail.com
Ages 5 to adult. Dance teams learn jazz, Hip Hop, and Pom with tap and Ballet classes also available. "Building Champions for Life!" It's more than just a slogan. It's our mission. Through dance and cheerleading, we prepare children for a lifetime of success. Not only do we teach the necessary skills to succeed in the cheer and dance world; we teach responsibility, social skills, and time management. Our students have a strong sense of self-worth and believe that anything is attainable through hard work and perseverance. No matter what path they choose in their adult life, they are prepared to succeed! Champions for Life! It is our goal to educate cheerleaders and dancers in a fun and safe environment. Our experienced staff will prepare each athlete to perform and compete with confidence and enthusiasm. Our Champion program trains athletes in the areas of cheerleading, tumbling, and dance, emphasizing the importance of teamwork and dedication.

Dance Ballroom & Studio
www.askmetodance5678.com
(605)332-3700
1200 E. 57th
info@DanceBallroomAndStudio.com
Ages 1 year to adult. Toddler Dance Classes Age 12-35 months Mom & Tots! Preschool Dance Classes Age 3-5 (5 year olds not in Kindergarten yet) Dance FUNdamentals and Pre Tap. Youth Dance Classes Level I: age 5-8 (5 year olds in Kindergarten) Level II: age 9+: Ballet I & II, Jazz I & II, Hip Hop I & II, Tap I & II, Student Ballroom, Musical Theater, Liturgical. Dancing isn't just about steps and music - it's the perfect combination of physical activity, social interaction and mental stimulation. Dance is a powerful ally for developing a child physically, emotionally, socially, and cognitively. It provides children with multiple perspectives in a foundation of experience necessary for future development and has been proven to enhance academic performance.

Dance Expressions
Face book page
(605) 376-6350
2211 West 49th Street
Dance Studio offers: ballet, competitive dance teams, hip hop, jazz and tap. In business since 2008. Julie Gessler 2008 UPA National Coach of the Year.

Dance Gallery
www.dancegallerysd.net
(605)338-3740
218 S. Main Ave.
info@dancegallerysd.com
Ages 18 months to adult. The Dance Gallery offers over 10 different disciplines of dance each with multiple levels and classes: Ballet, Hip Hop, Jazz, Modern, Tap, Lyrical, Liturgical, Broadway, Adaptive Dance, Adult, and Competition. The mission of our studio is to offer movement opportunities for all ages in a positive environment, as well as instilling a passion for the art of dance and movement. Above all, we (as a faculty) are fully aware of our dramatic impact on the development of each dancer's self-esteem and personal growth, and responsibility to present ourselves as positive and effective role models for our school. Dance Gallery has a professional atmosphere, with a unique "New York dance studio" feel. There are now SIX dance studios well-equipped with state of the art sound systems, constructed sprung floor systems with professional dance floor covering, and 12 foot ceilings to accommodate partnering and men's classes. The Dance Gallery has the privilege to dance in the Historic Orpheum Theater for recital, The Nutcracker Ballet, and other special events each year. It has become our second home.

Just for Kix
East Sioux Falls
https://www.justforkix.com/danceclasses/eastsiouxfalls_sd
605-553-0028
3801 E 26th St. - Westminster Presbyterian Church
Email: eastsiouxfalls_sd@justforkix.com

West Sioux Falls
https://www.justforkix.com/danceclasses/westsiouxfalls_sd
605-366-4319
5000 S Western Ave - Memorial Lutheran Church or Central Baptist Church
Email: westsiouxfalls_sd@justforkix.com
The Sioux Falls Just For Kix is changing lives one dancer at a time. Experience the positive teaching strategies and team-based performing environment at the Sioux Falls Just For Kix! As an established youth dance studio, Just For Kix is a leader in dance instruction. We offer proven technical training, a focus on teamwork and a respectful experience to our students. With a strong balance of fun and technique in our classes, we create a teaching environment that is low stress and less pressure. Additionally, our dance classes in Sioux Falls are very economical. Just For Kix classes engage pre-school through adults and offer current, relevant dance curriculum. Styles vary from location to location offering everything from: Kick, Jazz, Lyrical, Hip Hop, Ballet, Tap, and Pom. As dancers progress through our studio, they experience the health and fitness benefits of working to build cardiovascular endurance, strength and flexibility, along with the core attributes of confidence, pride and friendship. In Sioux Falls we celebrate the achievements of every student, at any skill level. At Just For Kix, doing your best, is more important than being the best.

Main Stage Ballet & Dance Academy
http://mainstageballet.com/msb/
605- 333-9816
2415 S. Sherman Avenue
michele@mainstageballet.com
Ages 3 to adult. Classes for ages 3-adult will be offered in Ballet, Jazz, Tap, Hip Hop, Modern, Lyrical, Contemporary, Zumba and Pilates. Main Stage Ballet & Dance Academy welcomes you to our professional and exciting environment! Our training is unique, invigorating and offers discipline and creativity for those who possess a passion for dancing. Our aim is to give students, male and female, an appreciation and knowledge for dance while building poise, confidence and character. Each student is considered an individual and we succeed in discovering the talent for dance that is found in each person. We constantly strive to incorporate new and innovative ways to enhance your dance experience while maintaining strong ties to classical methods. They personally invite all children, teens and adults to express themselves through dance. Main Stage will offer a wonderful dance education while stimulating your mind and body.

Midwest Dance Center
www.midwestdancecenter.com
1112 S. Minnesota Avenue
(605) 373-9832
mdc@midwestdancecenter.com
MDC offers a full Class schedule of tap, ballet, lyrical, hip hop, jazz, Pom, break-dancing and technique classes as well as a competitive dance program. At Midwest Dance Center, You will become a member of one of the premier, innovative and cutting edge dance studio in the Sioux Falls area. We encourage our students to come alive with music and experience the love and passion of dance as much as we do. Come learn to love dance with us!

Star Spangled Dance Academy
www.starperformancecomplex.com/
(605)362-7827
2517 S. Shirley Ave
emily@starperformancecomplex.com
Ages 2 to adult. Recreational weekly classes to competitive teams. Ages 2 – adult. Tap, Jazz, ballet, pointe, hip hop, lyrical, pom, acro, zumba. Come join dance at Star performance and become one of our stars. As a parent we realize you have a choice between several different music and dance schools. All studios are not the same. We constantly renovate and improve our facilities and provide ongoing training to our staff to ensure we are always providing our students and parents with the best experience possible. We do not believe we are the best because we're the biggest. Instead, we believe we're the biggest because families think we are the best.

Ultimate Dance
Ultimate Dance has 2 locations one in Beresford and the other in Tea. Both studios offer a great place for children to learn ballet, tap, jazz, hip hop, and other styles all while having a great time! Both studios have competitive teams that travel throughout the area. Ultimate Dance is so proud of all the dancers, and so excited to share the joy in dancing with so many youth!