Basketball
Sioux Falls Kids 411 Directory, offers information on youth basketball, where to sign up for teams, places to buy basketball shoes, clothes and equipment, basketball camps, and much more.

You can click on the organization in the list at the top of the page to take you right to their website or look below for a short description and contact information.



Sanford Pentagon
http://www.sanfordpentagon.com/basketball
605-312-7900
2210 W. Pentagon Place

The Sanford Pentagon serves as the home for basketball within the Sanford Sports Complex, and the facility houses two professional-sized courts along with six high school-sized courts. Basketball players of all ages will find opportunities for sport-specific training, camps and clinics, youth leagues, physical therapy, and more. The POWER Basketball Academy is the most comprehensive player development program in the area with a wide variety of basketball development options. From private workouts to team management and everything in between, our professional staff is knowledgeable, energetic, and creates a positive environment for players of all ages and skill levels to develop, learn, and enjoy the game of basketball. Simply, our goal for all players that come through our program is to leave with a greater understanding of the game of basketball, be able to perform skills at a higher level, have the tools to improve through their own practice, and love playing the game. The Sanford Pentagon offers athletes the opportunity to be part of the Pentagon Basketball Club (PBC) teams. Each PBC team will be coached by coaches who have years of basketball experience and have a shared passion for basketball. Athletes will enhance their basketball skills through competitive team practices, team drills and tournaments. This is your chance to practice and play in the nation's premier basketball facility!

YMCA
www.siouxfallsymca.org
605- 336-3190
230 S Minnesota Ave
Ages Pre K (age 4) to 12th grade
Basketball Club (Pre K-9th)
This program compliments our leagues by preparing players with skills and competition. The Basketball Club makes basketball development available year round. We believe in teaching both skill development and game execution which is why we offer one or two practices a week with high level instructional games on Fridays. Younger players will have one skills practice and one game practice per week. Because our players are paired with their age and skill and coached to reach the next level - wherever that may be - the Basketball Club is for all players beginner to advanced.
Hoopsters (K-1st)
This program promises to deliver a fun introduction to the game of basketball. A special age appropriate sized basketball and lowered hoops will help to ensure every child's success. From shooting, dribbling, and passing skills, confidence building is the key ingredient in the program. Each team of 8 - 10 players is led by an adult volunteer leader and an assistant leader. Teams are assigned by the school a child is attending; schools may have to be split or combined due to the number of players registered. Girls and boys are on separate teams.
Rookies (2nd-3rd)
Along with ball handling and shooting skills, children are ready to work on teamwork. Early in the program, skill work with dribbling and passing is stressed. Later, the idea of team play will be developed as teams participate in scrimmages. Each team of 8 - 10 players is led by an adult volunteer leader and an assistant leader. The teams are organized according to schools. Large schools may be divided up due to number of players registered and small schools mixed in with larger schools. Girls and boys are on separate teams.
YFORCE Basketball League (4th-8th)
A number of teams also have the opportunity to play a regular season league game at the Sioux Falls Arena on the Skyforce Home Court. League Details: 4th, 5th and 6th graders will start later in October. 7th and 8th grade will start early October in order to be finished prior to school ball starting. All grades will get 12 games and an end of the season tournament. There are 3 divisions A, B, and C with A being the most competitive and C being recreational. Players that are not on a roster but would like to participate must participate in tryouts. Tryouts will be in September, please watch the website for time, location and dates. The YMCA does reserve the right to mix players from different schools if needed to form teams. All divisions may enter with coach rostered teams. Those that register for the recreational league that do not have a coach will be formed into teams from the same school/location when possible. Every Player will get a membership ID card good for discounts at local businesses plus free admission to the Skyforce Intra-Squad Scrimmage, Skyforce Basketball Clinic, NBA Skills Competition and coach's clinic. Each player will get 1 free ticket to any regular season game. All levels will have 2 paid referees and 1 paid gym supervisor. Teams will supply a score keeper or timer for each game. Teams are allowed one practice a week - locations vary. Games are played once or twice a week - locations vary - we utilize Sioux Falls public schools, Brandon public schools, Sioux Falls private schools, Harrisburg public schools, Family Wellness, YMCA and various church gyms throughout Sioux Falls. Teams are required to have at least 7 players. All grades will receive 12 league games. Single elimination end of the season tournament - 1st and 2nd place prizes.
Hi-Y (9th-12th)
The "Y" offers a high school basketball (HI-Y) league for boys and girls (not co-ed). Program is available to all High School enrolled students. The Fall League runs September - October and the Winter League runs January - April. The season will wrap up with a tournament. The league is divided by grade 9th/10th and 11th/12th. Then the grades are divided into two divisions Recreational and Competitive. The Fall League will play games on Sundays. The Winter League will play games on Sunday and Wednesday. You may join either as a team (preferably) or as an individual. If you register as an individual you are not guaranteed placement. (Please fill out a free agent form). Teams will be required to design their own shirts (They must be approved by the league director). There will be no practice games. You are welcome to use open gym time to practice. The YMCA will provide supervisors on-site along with referees per game.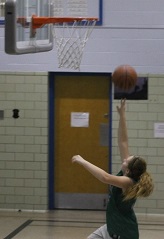 NOTE: Programs in the Sioux Falls school district start in the 7th grade - check with your child's school for details.
For a list of youth basketball camps
Stores to purchase basketball gear

Dicks Sporting Goods
1080 W Empire Mall
605-362-6550

Play It Again Sports
1208 W 41st St
605-339-2444

Scheels
2101 W 41st St #25A
605-334-7767

Sioux Falls Skyforce
Looking for a family fun night out then head to a Skyforce basketball game.