Drum and Percussion Lessons
Sioux Falls Kids 411 Directory, offers a list of places to take drum and percussion lessons and includes group classes, private lessons, studios, teachers, lessons for beginners or advanced, and includes various styles of lessons.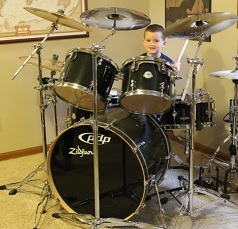 Scroll down to see a short description of each business or click on the company name in the top list to take you to their website for full details.

Case School of Music
http://caseschoolofmusic.com
(605) 274-6683
120 W 11th St # 2
Drum set and Percussion, Violin or Viola, Cello and Double Bass, and Trumpet
At Case School of Music, we are dedicated to providing high quality music instruction in a positive learning environment. Our teachers strive to spark each student's creativity and ignite their imaginations through the study of music. Whether you're a school age student wishing to learn a musical instrument for the first time, or an older student that would like to improve your musical skills, Case School of Music can meet your needs! Individual lessons as well as group classes for beginners are available. Music lessons at Case School of Music are weekly 1/2 hour lessons or 1 hour long lessons twice per month.

Darren Matthes
I've been teaching drums and guitar in the Sioux Falls, S.D., area since 2006. I've been playing drums and guitar since around 1985, and have played with many bands over the years. Students are not required to have a drum set for lessons. I can teach a student all of the standard drumming rudiments and concepts with just a practice pad and a pair of sticks. Eventually, a student will most likely want to buy a drum kit (set) or at least a snare drum. I can give you some tips and ideas about buying drums. There are no prerequisites for taking drum or guitar lessons. Sometimes schools and others instructors require piano lessons or other music lessons before drums, but since I studied piano myself and have years of experience playing drums, guitar and writing music in standard notation, I am able to teach the music theory that is necessary to understand how drums and guitar fit into the wider scope of music as it relates to other musical instruments and accepted music theory.

Groove Inc.
What is Groove? Percussion! Groove Inc. is the largest youth percussion organization in the Midwest. Groove provides group instruction November – April to percussionists of all skill levels – from those with no percussion background, up to world class performers. The goal of Groove Inc. is to spread a passion for all types of percussion for all ages in the Midwest. With innovative and entertaining shows, Groove Inc. provides its members with a positive and energized environment that helps them develop as percussionists, teachers and performers. We also strive to instill a strong sense of community in a group that upholds high moral and ethical standards for young men and women in society. For Genesis, Next Step, Cadets and Slam - practices will be held at the Trinity Baptist Church, 2400 West 18th Street unless there is a scheduling conflict. Impact drum line and Pursuit sectionals and full group rehearsals will practice at the Sioux Empire Fairgrounds Armory Building.

Groups:
Genesis is our percussion introduction program for young members aging from approximately 5 to 7 years old. This program will take a child and their parent(s) through all types of music and give a hands-on experience to the multitude of percussion instruments that are used in music around the world.

Next Step is the 'next step' for kids who started with Genesis. Next Step is for members aging from approximately 7 to 10 years old. Like Genesis, this program will take a child and their parent(s) through all types of music and give a hands-on experience to the multitude of percussion instruments that are used in music around the world, but with some more advanced concepts being introduced along the way.

Cadets is open to students in grades approximately 5 through 7. Cadets are taught percussion techniques along with a variety of methods during 30-minute clinics at practice. They also learn rudimentary cadences. They perform for their peer group and at local community events. Previous percussion experience or an audition is required.

Slam includes players in grades approximately 7 through 9 with previous percussion experience. Slam players audition for instrument placement. They practice moderately advanced cadences and percussion pieces and will perform shows at various local/nearby events during the season.

The Impact drum line is an advanced battery percussion instruction focus group and a mallet ensemble for all students grades 7 thru 10 grade. Impact players audition for instrument placement. The mallet ensemble will be taught mallets, hand percussion, and other exciting percussion instruments. This group will function as a percussion ensemble with local performances at schools, conferences, and local restaurants such as Braco and Carnival. The battery group will focus on playing the snare, quads, and bass at the highest level possible with a marching component. They will perform at local halftimes in the Sioux Falls area and will be added to the already entertaining cadets and slam taking the performance to a new level of creativity and precision.

The Pursuit drum line includes competitive advanced players from approximately grades 9 to 22 years of age. Participation and placement is by audition only. Pursuit competes regionally in the WGI Winter Drum line Circuit and MPA Circuit in cities across the U.S. including Denver, Chicago, Minneapolis-St. Paul, Dayton, and San Diego. Pursuit members have gone on to compete in drum and bugle corps such as the Phantom Regiment, the Colts, Pioneer, Chopstix, Southwind, Troopers, and the Americanos.


Schmitt Music
http://www.schmittmusic.com
(605) 339-6030
1020 East 41st St
Baritone, Bassoon, Clarinet, Composition, Drum Set, Electric Guitar, Flute, French Horn, Music Theory, Oboe, Percussion, Saxophone, Songwriting, Trombone, Trumpet, and Tuba

Schmitt Music has decades of experience providing music lessons. We teach private one-on-one lessons for beginners through highly advanced, as well as group or class lessons for all ages and abilities. Lessons are usually 30 minutes in length (most teachers will accommodate longer) and vary in price from teacher to teacher, and from store to store. Our teachers are highly qualified and have all the skills necessary to make your lesson experience satisfying and rewarding. Schmitt Music stores offer a controlled, safe environment. Taking lessons at Schmitt Music is convenient - we're open seven days a week! Our piano, drum, and guitar studios are equipped with well-maintained, quality instruments. Our staff is eager to help with all of your musical needs, from books and accessories to finding the right instrument.