Guitar Lessons
Sioux Falls Kids 411 Directory, offers a list of places to take guitar lessons and includes group classes, private lessons, studios, teachers, lessons for beginners or advanced, and includes various styles of lessons and all types of guitars.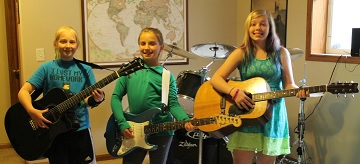 Scroll down to see a short description of each business or click on the company name in the top list to take you to their website for full details.

Amari Studios
http://www.amaristudios.com
(605) 360-5962
3710 S Westport Ave, Suite C
Private or Group Lessons
Amari Studios is owned and run by Micah Wetzel, a South Dakota State University graduate who studied both music and business. Along with teaching guitar at Amari Studios, Micah is also a guitar instructor at the University Of South Dakota. In addition, Micah is an active musician performing around the area both as a solo artist and with his band, Goodroad. Whether you aspire to be that rocker known for Guitar Hero like solos or a touring singer/songwriter, Amari Studios can help. Children to adults, beginner to the intermediate level, we will design a program that fits your needs and wants, while providing exciting, realistic goals. With monthly giveaway opportunities to all students, a waiting area designed with lesson viewing in mind and summer/winter recitals, Amari Studios is aimed to please.
Case School of Music
http://caseschoolofmusic.com
(605) 274-6683
120 W 11th St # 2
Private or Group Lessons
CSOM offers lessons in: All Styles of Guitar and Bass Guitar
At Case School of Music, we are dedicated to providing high quality music instruction in a positive learning environment. Our teachers strive to spark each student's creativity and ignite their imaginations through the study of music. Whether you're a school age student wishing to learn a musical instrument for the first time, or an older student that would like to improve your musical skills, Case School of Music can meet your needs! Individual lessons as well as group classes for beginners are available. Music lessons at Case School of Music are weekly 1/2 hour lessons or 1 hour long lessons twice per month.
Community Education Guitar Lessons
5 week group sessions of 40 minutes each. Students will need to have their own guitar available to bring to class. Students will need to purchase instruction book, details to be given upon registration.
Darren Matthes
I've been teaching drums and guitar in the Sioux Falls, S.D., area since 2006. I've been playing drums and guitar since around 1985, and have played with many bands over the years. There are no prerequisites for taking drum or guitar lessons. Sometimes schools and others instructors require piano lessons or other music lessons before, but since I studied piano myself and have years of experience playing drums, guitar and writing music in standard notation, I am able to teach the music theory that is necessary to understand how drums and guitar fit into the wider scope of music as it relates to other musical instruments and accepted music theory.
Geoff Gunderson
http://geoffgunderson.com
(605) 261-9355
Augustana College
Instrument Type: Acoustic guitar, Electric guitar, Classical guitar
Sioux Falls guitarist Geoff Gunderson has been performing for over three decades. With legendary Sioux Falls bands such as Wakefield and the Jukebox Zeroes, Geoff has headlined on stages across the Midwest as well as opened for artists including ZZ Top, Foreigner, Joan Jett, Sugarland, Rick Springfield, Nightranger and many others. Geoff has also performed with the South Dakota Symphony, the Sioux City Symphony, the Sioux City Rockestra, and many others. In addition to performing Geoff keeps busy as an educator, serving as the guitar instructor at Augustana College in Sioux Falls, Dordt College in Sioux Center, IA and as the director of the Childbloom Guitar Program of Sioux Falls, designed for young people age 5 and over. My teaching approach: I've been teaching and performing for over 30 years with Childbloom and Suzuki training and proven curriculum for younger students. For adult students methods vary, but I try to cover three general areas of technique, theory, and repertoire. The Childbloom Guitar Program is a unique and exciting program that offers music, fun, and achievement for children age 5-12 in a positive, low-pressure environment. Music Styles: Rock Guitar, Blues Guitar, Folk Guitar, Country Guitar, Alternative Guitar, R & B Guitar, Metal Guitar, Classical Guitar, Pop Guitar, Jazz Guitar, Christian/Gospel Guitar. Guitar Techniques: Lead guitar, Rhythm guitar, Finger style, Slide Guitar, Performance, Improvisation, Jamming Skills, Reading Music, Music Theory, Scales and Exercises, Song Writing. Levels taught: Beginner, Intermediate, Advanced, and Pro.
Nick Rallis School of Music
http://www.nrschoolofmusic.com
(605) 610-8252
1208 West 51st Street
nrschoolofmusic@gmail.com
Private or group lessons
The Nick Rallis School of Music is an Arts Academy designed to give students an outlet for expressing themselves. Learning a musical instrument is something that future students will be able to carry with them throughout their lives...and it's never too early or late to start. One-on-one, and group instruction combining traditional methodology with modern teaching techniques, including interpretation of tablature, rhythm, composition, and team training. Lessons are offered for all ages. While developing their technique in private lessons, students will take their talent to the platform with those within their age group and skill level. They will be able to develop their syncopation as a band, and deepen their knowledge of rhythm and chord theory in a safe, fun, LIVE environment! At the end of each semester, each Band will have the chance to take it live for their family and friends in a concert event! Both electric and acoustic guitar students will learn to play with one another and experience playing both lead and rhythm. Private Lessons: Designed for those looking for a more hands on approached. A private lesson consists of either one-on-one instruction or 'exclusive group' instruction. Exclusive group lessons reserve instructions for either 30 or 60 minute sessions. 'Exclusive groups usually consist of either two or members from the same family or friends. Exclusive group lesson discounts are offered. Group Lessons: Designed for those who need a flexible schedule. Group lessons are offered throughout the week. Simply pay the flat group lesson tuition and you will have the option of coming and going as you please when classes are offered throughout the weeks.
Schmitt Music
http://www.schmittmusic.com
(605) 339-6030
1020 East 41st St
Private or Group Lessons
Schmitt Music has decades of experience providing music lessons. We teach private one-on-one lessons for beginners through highly advanced, as well as group or class lessons for all ages and abilities. Lessons are usually 30 minutes in length (most teachers will accommodate longer) and vary in price from teacher to teacher, and from store to store. Our teachers are highly qualified and have all the skills necessary to make your lesson experience satisfying and rewarding. Schmitt Music stores offer a controlled, safe environment. Taking lessons at Schmitt Music is convenient - we're open seven days a week! Our piano, drum, and guitar studios are equipped with well-maintained, quality instruments. Our staff is eager to help with all of your musical needs, from books and accessories to finding the right instrument.