Home Daycare Providers
South East Area
Sioux Falls Kids 411 Directory provides a list of home daycare providers in South East Sioux Falls.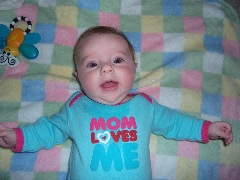 Provider: Connie Ladd
Phone: 605-271-2770
Description: New home daycare now open. Registered with city/state. Hours: Open 7:30 am till 11:30 pm Monday through Friday. Located South East off 26th & Sycamore area. I am married and have a 3 year old son. I do evening care, but no overnights or weekends. I also do drop in daycare. I accept state assistance. Accepting ages 3 months to 12 years.
Provider: Lori Borah
Phone: 605-274-7411
Description: Daycare has 3 full time openings in a loving home. 1 spot is for an infant 12 months and up. Monday - Friday 7 am until 5:30 pm. I am state and city licensed and also on the Sanford food program. This is a pet free and smoke free home with a fenced back yard and lots of learning activities. Parent references available. 20 years' experience in child care.
Provider: Ashley Auch
Phone: 605-2127731
Description: New small in home daycare, here to enrich lives of children through life skills, creative play, and Christian values. Our goal is to provide a small family atmosphere and happy place for children to learn and grow socially, physically, emotionally and intellectually. We encourage learning through play and offer activities with stimulate sensory and motor development. We have a set daily schedule which is flexible to meet the children's needs. Depending on weather we may go on field trips and outings. At Loving Arms & Caring Hearts Childcare we are excited to provide a safe place for children to learn and grow.
Provider: Julie Dobesh
Phone: 605-310-3152
Description: City Licensed Daycare. Hours 7:30am - 5:15pm M-F. My husband and I built a new house with a walk out to the back yard. Large play area with separate kitchen area and enter way just for the daycare. I enjoy my job a great deal and am very blessed to share my home with other families. I have many years of experience, city licensed along with CPR and first aid certified. I have a fun loving home environment with tons of interaction with activities throughout the day which includes crafts and preschool base for age readiness for each child in my care. With preschool activities, crafts and games and healthy snacks our days go by fast! I keep the children very busy with free play and using our imagination to structured play inside and outside.
Provider: Kristi Stirler
Phone: 605-271-0715
Description: I am a mom of 4 that has been providing childcare for the last 6 years. As an experienced child care provider I provide lots of love and attention. We work on preschool readiness skills. We work on puzzles, art and crafts and love to play outside as weather allows. I am city and state registered and currently have opening for children ages 6 weeks to 5 years. My hours are 630am to 530pm Monday through Friday.

Provider: Mariam Abu-Sharkh-Wellbrock
Business Phone Number: 605-521-4886
Description: Mariam's Jumping Beans is an eastside, city registered, in-home daycare with an exciting, interactive, and educational environment. Open 630a.m. to 530p.m. Monday thru Friday. As a provider I have more than 5 years of childcare center experience. A majority of my childcare center experience was spent in a position of leadership. This home provides a fenced in backyard with a swing set, toddler's play-house, sand table, and an assortment of outside toys. This home offers age appropriate toys, fine and gross motor activities, circle time, free choice time, themed activities, art, dramatic play, sensory activities, movie Friday, nutritious morning snack, lunch, and afternoon snack.
Provider: Stephanie Webster
Phone: 605-521-1927
Description: I provide school year care only, from August through May and one day per week from May through August, which is ideal for teachers and other school administration. I provide: quality care in an "at home" environment, balanced and healthy snacks and lunches, a variety of age appropriate activities for all ages, a safe and clean place for your child to learn and grow, a clear and complete parent handbook and parent/provider contract, and a sibling discount for new families. I have: a small group of children, a bachelor's degree in Early Childhood Education, completed city and state registration requirements, CPR and First Aid certification, and 13 years of experience in family home childcare with an additional 5 years of experience in childcare centers and Nanning.
Provider: Wanda Heibult
Phone: 605-212-9128
Description: Wanda's Little Wonders In home daycare. City registered daycare. Providing care in my home for the past 7 1/2 years. Full time and part time spots offered. Hours of operation are Monday through Friday from 7:15 am to 5:30 pm. Provider has elementary/special education degree and learning is incorporated into each day. Daily preschool activities such as circle time, music, crafts, free play, colors, letters, and story time are offered. Loving, family environment!