Home Daycare Providers
Central Area
Sioux Falls Kids 411 Directory provides a list of home daycare providers in Central Sioux Falls.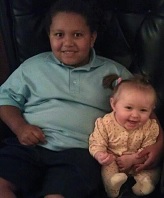 Provider: Jill Hanson
Phone: 605-338-8227 or email: jlabeaner@hotmail.com
Description: I have an early childhood education degree, CPR and safety certified; city and state registration and participates on the food program. Our scheduled activities include free play, fitness for kids, learning activities and time outside-in a fenced back yard. I am within walking distance of Laura Wilder Elementary and Jefferson Park. You can be sure your child will receive the proper attention they need and deserve. My mission is to provide your child with a happy, healthy, secure environment where they can grow physically, mentally, and emotionally. Your child will enjoy busy days filled with fun, entertainment and education. This will include: arts and crafts, music appreciation, story time, outdoor time and creative/free play. Preschool activities will be offered which include ABC's, 123's, colors, shapes, sight words as well as fine and gross motor skills. I also work closely with the children to promote social development which includes playing well with others, taking turns, sharing, respecting each other's space, cleaning up after them and using good manners.** I also have 3 dogs to help teach responsibility and caring.** Your child will enjoy a lot of outside play (weather permitting). We have many outdoor toys including climber with slide, an outdoor playhouse and sports equipment. I look forward to meeting you and becoming a part of your wonderful family! Hours are 7am-5:30pm M-F. Openings are for 1 year to 5 years old. Rate includes preschool curriculum and nutritious meals.

Provider: Jeanie Kellar
Phone: 605-941-6994
Description: I am city/state registered. I have a Bachelors of Liberal Arts from SDSU. I have been doing child care for 15 years. I have a structured program that focuses on kindness, learning, and growing. Children are kindergarten ready when they graduate my program.
Provider: Jen Wallace
Phone: 605-360-2032
Description: Due to school starting, I have full time infant openings and full time or part time toddler openings in my small in-home daycare. I'm located within blocks of Sanford Hospital. I'm city and state registered and I accept child care assistance. I have a very small daycare which allows me to give each child more individualized attention and ensures higher safety and lower illness. My hours are Monday - Friday from 7 am - 5:30 pm. I also offer drop in, back up and holiday break childcare.
Provider: Julie Beaner
Phone: 605-521-1062
Description: If you're looking for a safe, happy, clean and loving place for your child to learn and grow, this is it! We do lots of arts and crafts, dancing and singing, playing, reading stories and of course playing outside whenever the weather allows us! We have a fenced in, safe, clean backyard with lots of play equipment! I am a loving mom with a great deal of experience with children. I am a licensed social worker with previous experience working in Child Protection and at Children's Home Society. I am city licensed, CPR and First Aid Certified and have completed numerous parenting programs and other continuing education courses. Hours are from 7:00am - 5:30pm, Monday through Friday.
Provider: Little Monsters Home Daycare
Phone: 605-553-1582
Description: Little Monsters is city registered and in process on state registration. We are CPR and first aid certified. We accept child care assistance. Little Monsters exists to provide a safe, developmentally appropriate environment for preschool aged children. Our focus is to provide a stimulating early education experience which promotes each child's social, physical, and cognitive development.

Provider: Miranda MicShae
Phone: 605-521-8098
Description: Small group in home daycare. We enjoy activities learning our ABC's and 123's. We run jump and play all day. We have nutritional meals and snacks.
Provider: One Mother to Another – Samantha Stobbe
Phone: 605-789-1751
Description: My mission as a mother is to provide high quality learning experiences through child care in Sioux Falls. I am a member of Family Child Care Professionals of South Dakota. Are you considering a center? I offer the best of both worlds: A dedicated learning environment with a separate entrance combined with the coziness and convenience of home. No staff turnover and individualized attention! Schedule an interview to see if your little one will feel like part of the family while mastering new gross and fine motor skills, developing social and emotional awareness and expanding their vocabulary in a classroom setting.