Daycare Centers
South East Area
Sioux Falls Kids 411 Directory provides a list of daycare centers in south east Sioux Falls.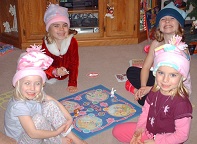 You can click on the Daycare Center name in the top list to take you to their website (if they have one) or look below the list for contact information a description of each center.
Apple Tree East
http://www.appletreechildren.org
(605) 339-9571
3309 E. 26th St.
Ages: 4 weeks to 12 years
Hours of Operation: Monday through Friday from 6:30 a.m. to 6:30 p.m.
Type of Care: Full and part time. Before and after school. Drop in if available.
Apple Tree Children's Centers have been voted Local Best #1 in both preschool and childcare for the 8th year in a row!! "A Home Away From Home" for Over 25 Years! Our mission is to provide exceptional care, nurture and age appropriate learning opportunities in the context of a Christ centered worldview. All four of our facilities are kept safe and secure at all times. Our staff is warm, caring and trained to instill a passion for lifelong learning in our students while nurturing their individual strengths. Stop in and check out our programs, teachers, field trips, and clean facilities.
Falls Learning Center
http://www.fallslearningcenter.com
605-362-2995
4060 South Grange Avenue
Ages served: 18 months to 12 years
Hours of operation: Monday through Friday 7:00am - 6:00pm
Type of care: Full and part time
We are a Christ-centered childcare center that offers a loving, safe, and educational environment where children can grow. We seek to not only help with a child's academic success, but also focus on their physical and social development as well. We've also partnered with Studio B. Music Academy to offer music lessons during daycare hours. School age students will meet with their instructor on campus and can learn a variety of instruments such as guitar, piano, drums, and voice. The Preschool program focuses on child development, potty training, and social interactions with other children. The Kindergarten Readiness program teaches the academic concepts of handwriting, math, and basic reading, allowing the children to have an easier transition into their school age years. The Summer School Age Program provides care for children during the summer months and offers them opportunities to keep on learning through fun, interactive activities at the center and within the community.
Kids Crossing Daycare Center
http://www.kidscrossingdaycare.com
(605) 271-1471
6101 S Mogen Ave Suite 5
Ages Served: Four weeks to 5th grade
Hours of Operation: Monday- Friday 6:30AM to 6:30PM
Type of Care: Full time. You have the option of 4 or 5 days a week. Before and after school.
We are a Christian daycare center committed to providing a safe, loving, and learning environment. Our mission is to provide a safe learning environment where children can grow and learn about the love of Jesus. We accomplish this mission through the dedication of staff who sees it as a ministry given by God. Our goal is to minister to children and their families while also caring for their needs and preparing them for school. We want children to enjoy their time here as they learn about the love of Jesus and the world around them. Our staff is made of caring, loving individuals who take the responsibility of teaching God's littlest children very seriously, and enjoy it very much! They are knowledgeable about the development of children and help them grow physically, emotionally, cognitively, socially, and spiritually. There is a 10% discount on multiple children in one family.
Kidz Academy
http://www.kidzacademysiouxfalls.com
(605) 332-5002
1600 South Sycamore Avenue
kidzacademysiouxfalls@gmail.com
Ages Served: From newborn up to school age.
Hours of Operation: Monday - Friday 6:00AM to 6:30PM
Type of Care: Full time. Part time for 3 days. Before and after school.
Year round private preschool and daycare center.
Here at Kidz Academy our goal is to provide exceptional love and care for your child along with preparing them for the life and the challenges of elementary school. We provide a fun and loving academic program for our children. We believe children are never too young to learn whether it is by fundamentals or by play. We believe children need a balance of both types of learning. Kidz Academy has an open door policy. This means our facility is open to tour during any of our hours of operation. When your child is registered in our program you are not just our client you are part of our family. We love, teach and care for each of your children as if they were our own. We accept private pay, state pay, and company pay. Low Rates - due to the economy we have set our rates so every family can afford quality daycare.
Southern Hills Daycare Center
http://sohillsumc.org
(605) 371-8770
3400 East 49th Street
Ages Served: 4 weeks to 12 years
Hours of Operation: 7AM to 6PM
Type of Care: Full time. Part time for preschool. Before and after school. Drop in if available.
Mission Inspired by God's love, Lutheran Social Services of South Dakota cares for, supports and strengthens individuals, families and communities. Southern Hills After-School, Summer and Preschool Programs. Hosted by Southern Hills UMC and staffed and managed by Lutheran Social Services.