Daycare Centers
North East Area
Sioux Falls Kids 411 Directory provides a list of daycare centers in north east Sioux Falls.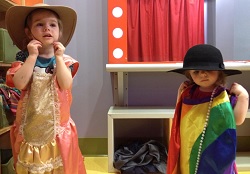 You can click on the Daycare Center name in the top list to take you to their website (if they have one) or look below the list for contact information a description of each center.
Apple Tree North
http://www.appletreechildren.org
(605) 332-5581
700 N. Sycamore Ave.
Ages: 4 weeks to 12 years
Hours of Operation: Monday through Friday from 6:30 a.m. to 6:30 p.m.
Type of Care: Full and part time. Before and after school. Drop in if available.
Apple Tree Children's Centers have been voted Local Best #1 in both preschool and childcare for the 8th year in a row!! "A Home Away From Home" for Over 25 Years! Our mission is to provide exceptional care, nurture and age appropriate learning opportunities in the context of a Christ centered worldview. All four of our facilities are kept safe and secure at all times. Our staff is warm, caring and trained to instill a passion for lifelong learning in our students while nurturing their individual strengths. Stop in and check out our programs, teachers, field trips, and clean facilities.


Care A Lot Children's Center
(605) 275-4869
601 S Cleveland Ave
Ages 0 to 7
Hours of operation: 6AM to 630 PM
Care A Lot Children's Center has a capacity of 60 children with preschool activities.
Citibank Family Center
http://child-care-preschool.brighthorizons.com
(605) 731-3777
Bright Horizons Family Sol. 4800 North 4th Avenue
Ages Served: Six weeks through fifth grade
Hours of Operation: M-F: 5:45 a.m. to 6:30 p.m.
Type of Care: Full and part. Before and after school.
You have to work at Citibank for your kids to go here.
The Citibank Family Center has been open since December of 1987. In April of 1997, we moved to a new larger facility located on Citibank's campus. Our highly educated and experienced faculty provides a stimulating and enriching environment in which children can grow and learn. We want to partner with parents and provide a "great place to be a child" for their child; a place where we recognize how critical early learning experiences are to each child's growth and development. Our Curriculum creates developmentally appropriate educational environments that empower children to be confident, successful, lifelong learners. We have the capacity to serve 450 children.

Snicklefritz Daycare
(605) 367-6767
4113 South Southeastern Avenue
Ages 0 to 7
Hours of operation: 630AM to 6PM.
Snicklefritz Day Care has a capacity of 75 children with preschool activities.