Daycare Centers
Central Area
Sioux Falls Kids 411 Directory provides a list of daycare centers in central Sioux Falls.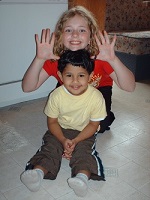 You can click on the Daycare Center name in the top list to take you to their website (if they have one) or look below the list for contact information a description of each center.
Campus Learning Center For Children (CLC)
http://www.augie.edu
(605) 274-4701
Augustana College 2001 South Summit
Ages Served: 1-6 years
Hours of Operation: Mondays through Fridays 7:30 a.m. to 5:30 p.m.,
Type of Care: Full time
Children are enrolled on a full-time basis in one of two age specific programs; Toddler Programs (ages 1-3 years and Preschool Program (ages 3-6 years). A Kindergarten Readiness Program is also provided in the mornings (8:30 a.m. - 12:30 p.m.).

The CLC provides quality care and age appropriate education to young children in an environment of love and respect for God and all of his children. The CLC strives to instill a sense of belonging, independence, mastery, and generosity in the hearts of our children. The CLC is licensed by the State of South Dakota. A planned program is provided according to children's developmental needs. Children are exposed to the alphabet, phonetics, numbers, Spanish, and sign language story books.
First Baptist Children's Center
www.fbchildren.org
(605) 336-0966
1401 S Covell Ave
Email: manawski@firstb.org
Hours of Operation: 7AM to 6PM
Ages Served: 4 weeks to age 12
Type of Care: After-school program, full time summer daycare for school age children, preschool, preschool age daycare, infant and toddler room

The Children's Center is an outreach ministry of First Baptist Church that exists to provide quality education along with enrichment activities for children. The Center provides a safe, stimulating and caring environment in which children may develop their God given gifts and talents.
Here4YOUth
http://here4youth.org
(605) 271-6327
1721 W 51st St
Ages Served: 3 to 21
Hours of Operation: Monday through Friday from 7 a.m. to 6 p.m., and Saturdays as scheduled.
Type of Care: full time, after school, out-of-school care, summer programs, respite care

Here4Youth is a private, non-profit organization established in 1995. We are unique in that we are the only organization in South Dakota that offers services to all children while specializing in the provision of quality service to those with disabilities. Here4Youth, governed by a board of directors, is a fully licensed day care center through the South Dakota Department of Social Services and a United Way partner agency. Here4Youth's childcare program offers gentle loving care and guidance, a sense of routine and developmentally appropriate challenges in a small group setting. Our staff to child ratio average is 1:4, and is adjusted based on need.
Hope Care, Sponsored by Hope Lutheran Church
http://www.hopesiouxfalls.org/HopeCare.html
(605) 367-1108
1733 S Sherman Ave.
knarum@hopesf.org
Ages Served: 4 weeks to 5th grade
Hours of Operation: Monday thru Friday 6:30am to 6:00pm
Type of Care: Full and part time, After School and Summer Care Programs,
Preschool and Pre-Kindergarten programs. Pick up from Eugene Field & Horrace Mann schools.
There are so many reasons to join the Hope Care Family! We have small class settings and we focus on knowing your family. We want to support you by investing in all aspects of your child's mind, body and spirit. We have experienced and educated leadership, and a great team of teachers. We are state licensed. We have indoor & outdoor activities & are conveniently located near parks & schools. We have age appropriate activities with an emphasis on kindergarten readiness skills. We have Christian-based enrichment activities and other learning experiences that teach life skills necessary for a child to master developmental milestones. Low student to teacher ratio so close knit relationships can be formed between teachers,children and families. There is homework time available. Open on Sioux Falls Public School's "no school days". Summer FUN! Weekly swimming and field trips included. Discount rates for families with multiple children enrolled.
United Daycare
http://www.uniteddaycare.org
2 locations
Asbury United Methodist
338-0246
2425 South Western Ave
First United Methodist
332-5940
401 S Spring Suite B
Ages: 2 to 10 years
It is the mission of United Day Care Center, Inc. to provide quality day care services in a Christian environment. The center serves children ages 2 through 10 years at a rate based on their family income. It is further the mission of the center to provide an environment for these children that fosters physical, social, cognitive, language and emotional development. Our Program Offers: A preschool program within a day care setting. Curriculum planned for individualized development interest areas within the room. Large muscle play – indoors and outdoors. Rest time. Special parent events. Field Trips. Secured entrances by keypad and/or keycard. United Day Care is licensed by the Department of Social Services.
YWCA / EmBe Avera Downtown
http://www.embe.org
(605) 336-3660
300 W. 11th St.
info@embe.org
Hours of Operation: Mon through Friday 6AM to 6PM
Ages Served: 4 weeks to 5th grade
Type of Care: Full, part-time, drop-in , preschool, Spanish immersion preschool, before and after school and summer programs

EmBe childcare centers provide a safe, caring environment that promotes exercising minds and bodies. Our centers have age-appropriate classrooms, and educational toys designed to foster your child's creativity. From four weeks to 12 years of age, we will engage your child in exciting learning activities specifically designed to meet their developmental needs. Our curriculum emphasizes language and literacy, cognitive development, social-emotional skills, creativity and physical exercise. We also go beyond basic curriculum by instilling positive traits that will lead to a lifetime of success through our life-skills programs. The YWCA was one of the first groups in the country to recognize the need for quality child care as mothers began to join the workforce. In 1864, the YWCA founded the first child care center in the United States. Over the decades we have earned a national reputation for loving child care and child development programs. Daily lesson plans focus on values such as appreciation of different cultures and racial diversity. We partner with other agencies to insure that no family is denied care due to income. EmBe childcare centers provide USDA approved meals and snacks.EmBe has an open door policy and parents and grandparents are invited to drop in anytime to participate in their child's learning experience. From drop-in visits to chaperoning field trips to enjoying family events, we value and encourage our parent-teacher partnerships.