Party Rentals
Sioux Falls Kids 411 Directory offers a list of places to rent inflatable & interactive games, bounce houses, laser tag, photo booth, tents, tables, chairs, linens, heaters, fans, grilling and food service, dinnerware, glassware, flatware, dance equipment and dance floors, serving equipment, PA systems, karaoke, cotton candy, popcorn and shaved ice machines for birthday parties, graduations and other special occasion.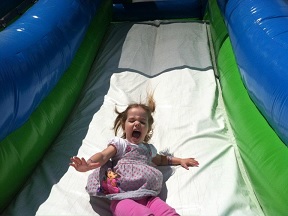 Scroll down to see a short description of each business or click on the company name in the top list to take you to their website for full details.

ABC Rentals Details:
http://abcrentalsmidwest.com
(605) 331-3644
1701 West 12th ST.
info@abcrentalsmidwest.com
We are able to provide virtually anything that you would need for a party or event: tables, chairs, linens, heaters, fans, grilling and food service, dinnerware, glassware, flatware, dance equipment, and serving equipment.


Bounce Around Inflatables Details:
Bounce Around Inflatables, the home of inflatable fun. We supply professional service that simplifies your entertainment needs while making your experience unique. Our fun and courteous staff will help you with every aspect of your day from setting up, supervising the fun, to tearing down at the end to make your event fun and hassle free. This is a home based company that will strive to maintain safe, clean, wholesome fun for all involved. There are over 15 different inflatable games, so there is something for everyone. This is the only company in the Sioux Falls area that provides only inflatable games, concentrating on making your activity a fun, safe environment. If you are looking for an outrageous activity for your town celebration, prom party, birthday party, company picnic, block party or any other get together, contact Ryan for a reasonable quote on some good down home entertainment.


Carolan Rental Details:
www.carolanrental.com
(605) 336-7368
3501 South Minnesota Avenue
Inflatable & Interactive Games, Laser Tag, Karaoke, Photo Booths, Tents, Staging Dance Floors, Tables, Chairs, PA Systems and much more.
Carolan Rental is the Sioux Falls, southeastern South Dakota, northwest Iowa, and southwest Minnesota's leading provider of rental equipment and games for parties and special events. Our promise to you is that we will do everything in our power to make the planning of your event and the event date as stress free as possible, but more importantly, a very memorable day! We strive to provide reliable rental equipment with the highest quality of service at reasonable prices. Event Rentals Product: tents, chairs and tables, audio-visual equipment, party supplies, catering equipment, linens, party bouncers, dance floors, lighting, games, and karaoke. Party Supplies Product: decorations, party favors, lights, balloons, games, glags, fireworks, tableware, chairs, cotton candy machine, dance floor, inflatable games, tables, tents, and treat machines.


Dakota Entertainment Details:
www.dakotaentertainment.com
(605) 331-1404
2011 S Minnesota Ave
garner@dakotaentertainment.com
DJ, Karaoke, inflatable games, interactive games, party favors, and cotton candy, popcorn and shaved ice machines.
We are the largest entertainment service company in South Dakota. We now have the ability to offer 14 DJ / Karaoke Shows, Inflatable Games, and Interactive Games. Want something special for the kids at your next birthday party? Dakota Entertainment offers Cotton Candy, Popcorn Machine, and a Shaved Ice Machines for rent. We can also help you find that perfect party favor. You chose as many entertainment options as you wish for your event. We are your #1 source for quality entertainment. Interactive Games: Interactive games are always a crowd pleaser. If you've never experienced the fun and excitement these games can generate, you're in for a real treat. Our interactive games provide challenging fun for all ages and ability levels. We can help you select the best combination of games to fit your event and budget. The choices are unlimited. Practice your swing with our Golf Chipping Challenge, have a free throw shoot off. . Paint Ball your idea of fun? Enjoy the rush of playing cops and robbers… no need to worry though it's Paintless Paint Ball. Whatever you choose, your group will be sure to have a great time. Games include: Big Foot Racers, Clown Bikes, Paintless Paint Ball, Dunk Tank, Nite Lite Volleyball, Golf Challenge, Speed Pitch, Quarterback Pass, DB Shot BBall, Limbo, Bingo, Cash Cube, and Prize Wheel. Inflatables: Dakota Entertainment inflatable games provide challenging fun for all ages and ability levels. We can help you select the best combination of games to fit your event, your participants and your budget. We offer many varieties of inflatable - bouncers, combo jump/slides and water slides and slip 'N slides. Whether you're a kid, or a kid at heart, these giant blow ups are always a hit. Our games will provide loads of fun at your next event. You may choose to have your event fully staffed, supervised help or on a rental basis. Food and Favors: Yum! Yum! Cotton Candy Machine is a great treat to add to your next event. The Cotton Candy machine and popcorn machine can be rented on a Do-It-Yourself or with an operator. What a great way to cool down on a hot day with a Shaved Ice Machine. It comes complete with operating instructions and your choice of 3 delicious flavors. This Shaved Ice machine is ideal for Family Fun days or birthdays. Party Favors….you need help finding the right favors for your event. Stop by and check out our catalog of choices for glow necklaces, leis, silly hats and more. Insured: Some game companies don't carry game insurance if they don't you could end up paying more than you bargained.