Kids Entertainment and Music
Sioux Falls Kids 411 Directory offer entertainers in Sioux Falls, SD for kid's birthday parties and other celebrations that include music, singing groups, DJ's, professional balloon twisters, games and much more.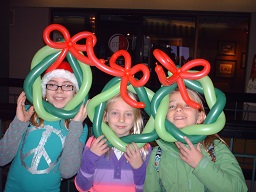 Scroll down to see a short description of each business or click on the company name in the top list to take you to their website for full details.

Balloon Squad Details:
Birthday Party Decorations and Entertainment Services.
Welcome to our world of unique and affordable party decorations for Birthday parties and other celebrations. For over 13 years, we have been providing festive party decorations and entertainment for celebrations large and small. Our design staff will discuss the options available for your event and provide a quote for review. Customized designs are available for all events along with complete delivery, setup, and removal services. Special Effects bring excitement to the party. Exploding balloons, balloon drops, balloon releases, lighting, and confetti are a few ways we like to assist you with motivating or surprising your guests! We create customized decorations for boy's parties and girl's parties such as Minnie Mouse and Mickey Mouse, Princess parties, Pirate parties, Down on the Farm, Dora the Explorer, Tropical Paradise, Totally Pink, Superhero, and much more. Entertainment is very important part to a successful event. We strive to provide unique, fresh entertainment options that are not found within our 5 state area. Professional Balloon Twisters, Airbrush Tattoo Artists, DJ/MC, Singing Telegrams, Wild n' Wacky Balloon Squad Show, Games, and much more.


Dakota Entertainment Details:
www.dakotaentertainment.com
(605) 331-1404
2011 S Minnesota Ave
garner@dakotaentertainment.com
DJ, Karaoke, inflatable games, interactive games, party favors, and cotton candy, popcorn and shaved ice machines.
We are the largest entertainment service company in South Dakota. We now have the ability to offer 14 DJ / Karaoke Shows, Inflatable Games, and Interactive Games. Want something special for the kids at your next birthday party? Dakota Entertainment offers Cotton Candy, Popcorn Machine, and a Shaved Ice Machines for rent. We can also help you find that perfect party favor. You chose as many entertainment options as you wish for your event. We are your #1 source for quality entertainment. DJ: You've found the Midwest's source for the best in mobile DJ entertainment. Having thousands of songs to choose from in our extensive music library enables our DJ's to handle any request you or your guests might desire. In addition to playing your song selections, our interactive DJ's have the experience to keep everyone entertained throughout the event. Interactive Games: Interactive games are always a crowd pleaser. If you've never experienced the fun and excitement these games can generate, you're in for a real treat. Our interactive games provide challenging fun for all ages and ability levels. We can help you select the best combination of games to fit your event and budget. The choices are unlimited. Practice your swing with our Golf Chipping Challenge, have a free throw shoot off. . Paint Ball your idea of fun? Enjoy the rush of playing cops and robbers… no need to worry though it's Paintless Paint Ball. Whatever you choose, your group will be sure to have a great time. Games include: Big Foot Racers, Clown Bikes, Paintless Paint Ball, Dunk Tank, Nite Lite Volleyball, Golf Challenge, Speed Pitch, Quarterback Pass, DB Shot BBall, Limbo, Bingo, Cash Cube, and Prize Wheel. Inflatables: Dakota Entertainment inflatable games provide challenging fun for all ages and ability levels. We can help you select the best combination of games to fit your event, your participants and your budget. We offer many varieties of inflatable - bouncers, combo jump/slides and water slides and slip 'N slides. Whether you're a kid, or a kid at heart, these giant blow ups are always a hit. Our games will provide loads of fun at your next event. You may choose to have your event fully staffed, supervised help or on a rental basis. Food and Favors: Yum! Yum! Cotton Candy Machine is a great treat to add to your next event. The Cotton Candy machine and popcorn machine can be rented on a Do-It-Yourself or with an operator. What a great way to cool down on a hot day with a Shaved Ice Machine. It comes complete with operating instructions and your choice of 3 delicious flavors. This Shaved Ice machine is ideal for Family Fun days or birthdays. Party Favors….you need help finding the right favors for your event. Stop by and check out our catalog of choices for glow necklaces, leis, silly hats and more. Insured: Some game companies don't carry game insurance if they don't you could end up paying more than you bargained for. Dakota Entertainment carries a $1,000,000 liability policy. If you would like we can add your name or organization to our policy for your event. We make sure your event is covered.


Do Re Lets Play Details:
Children's Music Entertainers.
What do you get when you mix music, children, learning and a whole lot of dancing'? You get Do Re Let's Play, the latest children's entertainers to hit the Sioux Falls area music scene. Do Re Let's Play mixes the sounds of keyboard, acoustic guitar, electric bass and three part vocals to create a sound that will cause the young and the young at heart to get up and grove. Whether singing their own gentle lullaby song, telling tall tales, helping youngsters find their own beat with two left feet, or offering treasures from America's vast traditional song bag, Do Re Let's Play is ready to entertain. As much as Do Re Let's Play aims to entertain, they also look to educate, through clever original songs about the solar system, or the presidential election process seen through the eyes of a 6 year old. A musical computer geek, a Nashville dropout, and a stay at home music teacher - it doesn't get any better than this!


Mr Twister Details:
www.mrtwister.org
(605) 310-0365
mrtwister98@msn.com
Balloon Entertainment
Dazzling balloon entertainment for your special occasion that includes balloon twisting, magic and juggling. Birthday Parties are one hour long & includes a magic show & a special birthday balloon hat for the guest of honor. All of the children attending will receive a balloon party hat. At the conclusion of my visit, the birthday child will receive a very special balloon surprise.