Cakes and Cupcakes
Sioux Falls Kids 411 Directory offers a list of places to buy birthday cakes, graduation cakes, cupcakes, custom cakes, designer cakes, baptism cakes, ice cream cakes, cookie cakes, holiday cakes and cakes for any special occasion.

Scroll down to see a short description of each business or click on the company name in the top list to take you to their website for full details.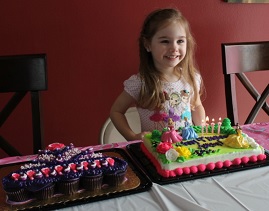 Dairy Queen Details:
www.dairyqueen.com
2 locations
4407 East 10th Street (605) 338-2962
5420 West 26th Street (605) 361-5192
Choose from 3 sizes of ice cream cakes. 8" round for 8 to 10 people, 10" round for 12 to 16 people or sheet for 20 to 24 people. These delicious cakes have 3 layers – the bottom layer is chocolate, the middle layer is cake crunch with fudge and the top layer is vanilla. Have your cake custom decorated for that special person having a birthday or choose from a cake already made up in the freezer and add their name.


Great American Cookies Details:
www.greatamericancookies.com
(605) 361-2447
Located in the Sioux Empire Mall
1710 W Empire Pl
Something fresh-baked always says it best. Chocolate Chip cookie cakes available in 3 sizes 12", 16" or pan. Also choose from a variety of delicious treats, from cookies and brownies to icing filled cookie cups. All of the cookies and brownies at Great American Cookies start with carefully tested recipes, highly controlled production and the finest premium ingredients from our batter facility in Atlanta, Georgia. The end result is the best possible fresh-baked products at an affordable price. From our signature Cookie Cakes to our sinfully rich brownies, Great American Cookies takes the time to do it right. Our goal was simply to bake the best cookies ever made. Founded on the strength of a generations-old family chocolate chip cookie recipe, the company eventually set the standard for gourmet cookie sales in shopping centers nationwide. Our mission statement is simply: Share the Fun of Cookies.


HyVee bakery Details:
www.hy-vee.com
3000 South Minnesota Avenue (605) 334-7231
3020 East 10th Street (605) 336-8947
1601 South Sycamore Avenue (605) 334-4570
1900 South Marion Road (605) 361-3442
4101 South Louise Avenue (605) 361-0313
2700 W. 10th Street (605) 334-3321
1231 E. 57th Street (605) 271-7171
1900 South Marion Road (605) 361-3318
3000 South Minnesota Avenue (605) 334-0550
Cakes sizes include: 1/8 sheet that feeds 8 to 12 people, quarter sheet that feeds 16-24, half sheet that feeds 32-48 and a full sheet that feeds 64-96. Flavor choices include white, chocolate and marble with either butter cream or whipped frosting. Other options are cupcakes or large chocolate chip cookie cakes that come in 9", 12" or 16 inch sizes.


Oh My Cupcakes Details:
www.ohmycupcakes.com
(605) 310-6742
524 N. Main Ave. Suite 106
Return to the innocence and simplicity of childhood...savor a small piece and time of joy. Oh My Cupcakes! are delectable treats just like Mom used to make. In fact, you may find you like them better than Mom's. (If you do we won't tell!) Enjoy classic flavors you might expect from our Signature Line, or discover new taste experiences with our Gourmet Line. No matter which cupcakes you choose, you'll be sure to say, "Oh My!" Our shop and staff will welcome you and our cupcakes will delight you. Feel like a kid again and get your own cupcake. Cupcake Party. Our cupcakes love to party. They really love it when you come to party with them. Book your private party for you and your friends and become expert cupcake artists. We provide the place to party, you bring the guests. Party includes: A behind the scenes tour of the Oh My Cupcakes! Gourmet Cupcakery. One cupcake to decorate and eat now, and one cupcake for later. Safe and secure packaging for the take home "favor" cupcake. That little extra sprinkle of magic that says "we rocked the party at Oh My Cupcakes!" Already have the party lined up at your home, a park or some other, super fun location? No problem! Oh My Cupcakes likes to party anywhere. Order a Cupcake Party Kit for each guest and you've got the cake and the activity covered in one delicious, sprinkly and swirly shot! Each Cupcake Party Kit includes: Two naked Oh My Cupcakes! Per kit. (Yikes!) Decorate and eat one at the party, then take one home. •One prepared butter cream frosting bag per guest (so you can dress them up) One pod of candy topping (Choose from crushed Oreo's, Reese's Pieces, M & M's, etc.) One pod of sprinkles or fairy dust Gift boxed, packed up and ready for each party guest.


Sam's Club Details:
www.samsclub.com
(605) 362-0119
3201 S. Louise Ave.
Options to choose from in the bakery are: *16" double layer chocolate chip cookie cake *10" round cake comes in white or chocolate flavor and you can choose from whipped or butter cream frosting. *Full sheet and half sheet cakes come in white, chocolate, or marble flavors and with the choice of whipped or butter cream frosting. They also have the option of a 5" cake with 10 cupcakes that comes in white or chocolate flavors.




Wal-Mart bakery Details:
www.walmart.com
2 locations
521 E Arrowhead Parkway (605) 367-3140
3209 South Louise (605) 362-1002
Cake sizes include quarter sheet that feeds 16 to 41 people, half sheet that feeds 32-48 people and full sheet that feeds 64 to 96 people. Cake flavors include white, chocolate, marble, confetti or red velvet. Frosting is available in butter cream or whipped. They also have flavored whipped frosting that includes oreo, chip a hoy, cotton candy or bubble gun.